SCCA GT3 RACE CAR FOR SALE
Posted on
APPLIEDSPEED is pleased to offer this GT3 SCCA Nissan 240 for Chuck Mckinney of Richmond, California.
chuck@amtmetals.com
SCCA GT-3 Nissan 240SX Racing Car For Sale - Ready to Race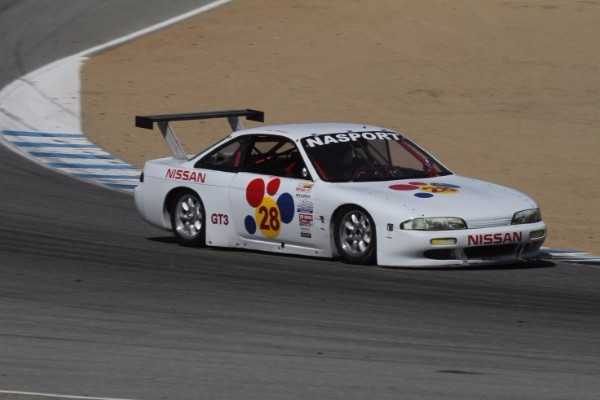 Contact Info:
Phone: (510) 812-1140
Email: Chuck@amtmetals.com
Description: SCCA GT-3 Nissan 240SX Racing Car For Sale - Ready to Race
2014 SCCA Runoffs Podium Finishing GT-3 Nissan 240SX Racing Car For Sale
Square tube chassis, Lotus link, flat floor, driver's side exhaust, Rebello 2015 Spec KA24 3-Valve motor, 32mm SIR, built NEW for the 2014 SCCA Road Racing Runoffs on a virgin engine block and crank (all new parts with the absolute latest trick internals, engine and chassis dyno tuned).
Completely sorted
2014 SCCA Runoffs, 3rd Place finisher
2014 NORPAC Division GT-3 Championship
1997 NASPORT Championship and current lap record holder at the Thunderhill "new" 5 mile road course and previous lap record holder at the Thunderhill 3 mile course.
This car could position you to win the 2020 SCCA National Championship Runoffs at Elkhart Lake, Wisconsin - Road America.
This is a very safe, well-maintained racing car designed and engineered to be managed by one person.
- Includes 2 motors, 3 sets of wheels, extra carbon fiber body parts, and all my spares.
Also available separately is my 24' Haulmark enclosed trailer
Please Contact me for a complete specification sheet and additional photos:
chuck@amtmetals.com
Chassis:
Square tube chassis, flat floor, driver's side exhaust
Neely front uprights / McKinney A-arms / easy camber and caster setting
Lotus link rear, Speedway SuperMax Quick Change with "GoldTrack" limited slip, gun drilled axles,
Speedway gear oil pump with Earl's cooler
Ground Control "Advance Design" adjustable shocks with fresh factory rebuild and dyno
Hanging Tilton pedal assembly, adjustable for driver height
Speedway adjustable tubular front sway bar
Fuel Safe 10 gallon fuel cell with new foam
External Holly Blue supply pump with custom external surge tank feeding a Bosch high pressure, high volume FI pump
3 gallon Patterson Oil tank
New Nissan 300ZX Radiator
Pyrotect integrated fire system
Earl's lines exclusively
New Deka 12 volt battery
Forward and rear chassis sections bolted for quick and easy removal
Power Train:
New Rebello 2015 Spec KA24 3-Valve with 32mm SIR built for the 2014 SCCA Runoffs on a virgin block and crank (all new parts with the absolute latest trick internals, dyno tuned and completely sorted)
Fully developed ported head with Ferrea high heat stainless steel oversized valves, beryllium copper intake seats and double row timing chain
J&E lightweight pistons with special wrist pin configuration
Lightweight, small pin, taper beam extra-long Honda rod journal Carrillo rods
Nissan Crank with small rod journals polished and nitrated
TDC drysump pump with new A.R.E cast aluminum drysump pan with Teflon crank scraper
Adaptronics Engine Management system custom-mapped by Brian Rebello and wired for external fuel mixture trim, with crank trigger ignition and Mazda coil packs
Borla (TWM) Independent Throttle Body Intake with TWM injector rail
Custom reinforced Carbon Fiber Air box with K&N Style inline air filter in aluminum cold air box in nose
Custom made equal length Stainless Steel headers with Borla Exhaust racing muffler
Drive Train:
G-Force GF-5R rolled-over 5 Speed Dog Ring Gearbox with Long Shifter, freshly rebuilt, custom oil squirter system for all 5 gear sets with Tilton external transmission pump and Earl's cooler
1 pc Aluminium driveshaft
Tilton hydraulic clutch release bearing
New Tilton 3 disc 5 1/2" clutch assembly with Tilton flywheel
Tilton Gear reduction starter
Brakes:
4 piston calipers and .810" vented rotors front and rear
Driver adjustable Tilton master cylinder assemblies with brake balance-bar assembly (all 3 master cylinders are new)
Steering:
Woodward changeable ratio steering rack
Bodywork:
Nissan 240SX fibreglass body freshly painted
Genesis Engineering Carbon Fiber rear wing custom sized for GT-3 Nissan 240SX
Lexan windshield, rear and side windows
Entire body work Dzused on and comes completely off in seconds, including the windshield and roof
Side jacking points with jack posts
Wheels:
Three sets of matching 15x7 Panasport wheels, all with same offset (new suspension design allows the same wheel offset front and rear)
Two sets with mounted Avon bias ply slicks fresh from the Runoffs, and one set with Goodyear bias rains
Cockpit:
Autometer 5" Tachometer with shift light and tattle tale
Autometer 2-5/8" liquid filled gauges (Oil pressure, Oil temp, Coolant temp, and Fuel pressure)
AEM Digital Air/Fuel Mixture Gage
Digatron dual display EGT with sample button switch on steering wheel
Aircraft toggle switches with rubber covers
ButlerBuilt custom-fit aluminium racing seat
G-Force 2014 6-point harness, Hans Device compatible
Custom aluminium interior, with removable tranny tunnel
NASCAR Bars on driver's side
Spares:
Spare KA24 engine, 10 races, fresh head, new double row timing chain and guide
Neely front uprights
Large selection of 8" front and 10"rear Eibach springs
Six sets of quick change gears
Spare crank trigger sensors
Lots of other miscellaneous stuff
Detailed History:
This car has the "Best of Everything" and has been maintained in absolute pristine "no expense spared" condition. I have many years of blood, sweat and tears in this car.
This car finished 3rd behind arguably the two fastest SCCA GT-3 drivers in the country ( Collin Jackson and John Black ) at the Laguna Seca Runoffs in 2014 with a guest driver who never sat in the car until the beginning of 2014 SCCA Majors season.
I started with a fully sorted $25,000 proven racecar that was no longer legal for SCCA GT-3 Majors. In 2013 I converted it to Fuel Injection ($10,000), added an SIR ($1,000), added a wing ($1,200) and had a new from scratch Rebello Racing KA24 3-Valve motor built ($25,000). We developed it on the Engine and Chassis Dyno to get the very best HP Rebello has seen in a 2015 Spec KA-24 ($2,000).
Then I freshened the entire car for the 2014 season with new everything: rotors, bearings, oil cooler, radiator, trans rebuild, Super-Max rebuild, fuel lines, wiring, computer, master cylinders, paint, glass, Dzus fasteners, bolts, nuts, you name it, all to the tune of another $3,000. That puts me at about $41,200 into the car just for the 2014 SCCA Runoffs assault.
After the Runoffs I had Rebello Racing Engines freshen the bottom end to make it ready for the new buyer. This car is absolutely race ready with a fresh oil change (Red Line of course!), and can be had at a fraction of the $66,200 I have in it.
You could not reproduce this car for $125,000!
I am very interested is staying associated with this car, so the new owner can have my services for just expenses if desired.
We have setup sheets for all of the West Coast tracks plus the Mid-Ohio SportsCar Course.
Let's get some conservation going and get this Rocketship back out into GT-3 and strengthen the participation numbers and maybe win the 2020 SCCA National Championship Runoffs at Elkhart Lake, Wisconsin - Road America.
Seller Information